Vision: To demonstrate the love of Christ by caring for those in need; upholding the social principles of the Christian Church.
Mission: To assist others and execute programs that reaches people within and beyond the walls of the church by providing outreach services, programs and activities that minister to the needs of our congregation, local communities, our extended communities and throughout the world.
---
The Outreach Ministries of Fountain of Hope Christian Church focus on the following areas:
Physical & Spiritual Health Ministries – provides education, counseling and support to the church & the community about the importance of maintaining mental, physical and spiritual health. This will be done through the newsletter as well as occasional sponsored events.
Seniors & Elders Ministry – supports, encourages and builds spiritual strength in seniors and elderly that are homebound or in Assistant Living facilities. This ministry provides resource information, host field trips and outing, visitation, worship services and other ministry that supports the senior and elderly population.

North Decatur Rehabilitation Center (formerly Golden Living Center)- Each 2nd Sunday of the Month, Fountain of Hope provides a worship service to our senior constituency who are unable to leave the facility due to their health conditions.   In addition, we welcome their family and friends to join us for worship as we celebrate the love of Jesus Christ in their space.   We also celebrate a watch night service with them on December 31st at their facility to give thanks for the blessings of another year. (Click Picture to Enlarge)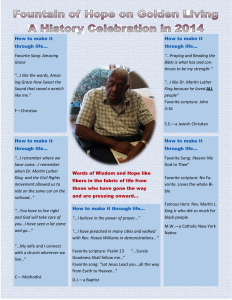 Peace with Justice/Reconciliation  Ministry – supports and acknowledges individuals, organizations and agencies that promotes peace within our communities and is an agent of change by demonstrating peace with justice and addressing prejudice behaviors among those within their local communities and beyond. Persons or groups that represent areas of social & behavior change & inclusiveness, law enforcement, legal, emergency response, firefighters and community activists would be examples of those recognized for exceptional service.
Missions – supports local, national and global mission efforts.
Benevolence – the ministry assists people with emergency assistance of food, clothing, utility assistance and other emergencies as funds are available and those seeking help meet the criteria and following the guidelines as set up by the FOH church or make referrals.
---
Special Initiatives:
Reaching the Air Waves – Non-Profit GURU 860 AM  1/16/2017.  Rev. M.L. King Observance https://fountainofhopechristianchurch.com/wp-content/uploads/2017/01/NON-PROFIT-GURU-1-16-17.mp3
CHAMPS – Fountain of Hope provides support for this much needed health initiative which provides over $3,000 in health care services to individuals for free.   Physical health is important and we must be good stewards of our health.

Pictured with the Founder of CHAMPS (Community Health And Men's Promotion Summit) 2014

CHAMPS provides a broad range of health information and screening services to adult men of the metro-Atlanta area.  Our initiative focuses on the importance of men addressing their health and becoming more educated about overall healthier lifestyles.

---

Adult men, 21 years and older.  Event is open to ALL men regardless of race, origin or creed.

Interpreters on site for Latino & Asian communities.